Datasette Desktop
Datasette Desktop for macOS provides an installable application for easily running Datasette on your own computer.
Download the application, drag Datasette.app to your Applications folder and double-click the icon to get started!
Suggestions and feedback welcome on GitHub Discussions.
Download and install Datasette 114.8 MB
Latest release:

0.2.1

on

13th September 2021
0.2.0
on

13th September 2021

The first major update to Datasette Desktop. New features include:
A new plugin directory for installing new plugins and upgrading or uninstalling existing ones. Open it using the "Plugins -> Install and Manage Plugins..." menu item. #74
Five plugins are now installed by default: datasette-vega, datasette-cluster-map, datasette-pretty-json, datasette-edit-schema and datasette-configure-fts. #81
The application loading screen now shows a log of what is going on. #70
The welcome screen now invites you to try out the application by opening interesting example CSV files, taking advantage of the new "File -> Open CSV from URL..." feature. #91
.db and .csv files can now be opened in Datasette starting from the Finder using "Right Click -> Open With -> Datasette". #40
Recently opened .db and .csv files can now be accessed from the new "File -> Open Recent" menu. Thanks, Kapilan M! #54
A new Debug menu can be enabled using Datasette -> About Datasette -> Enable Debug Menu".
See Datasette Desktop 0.2.0: The annotated release notes for more background on the new features and how they work.
If you have already installed Datasette you should delete Datasette from your /Applications folder before installing this.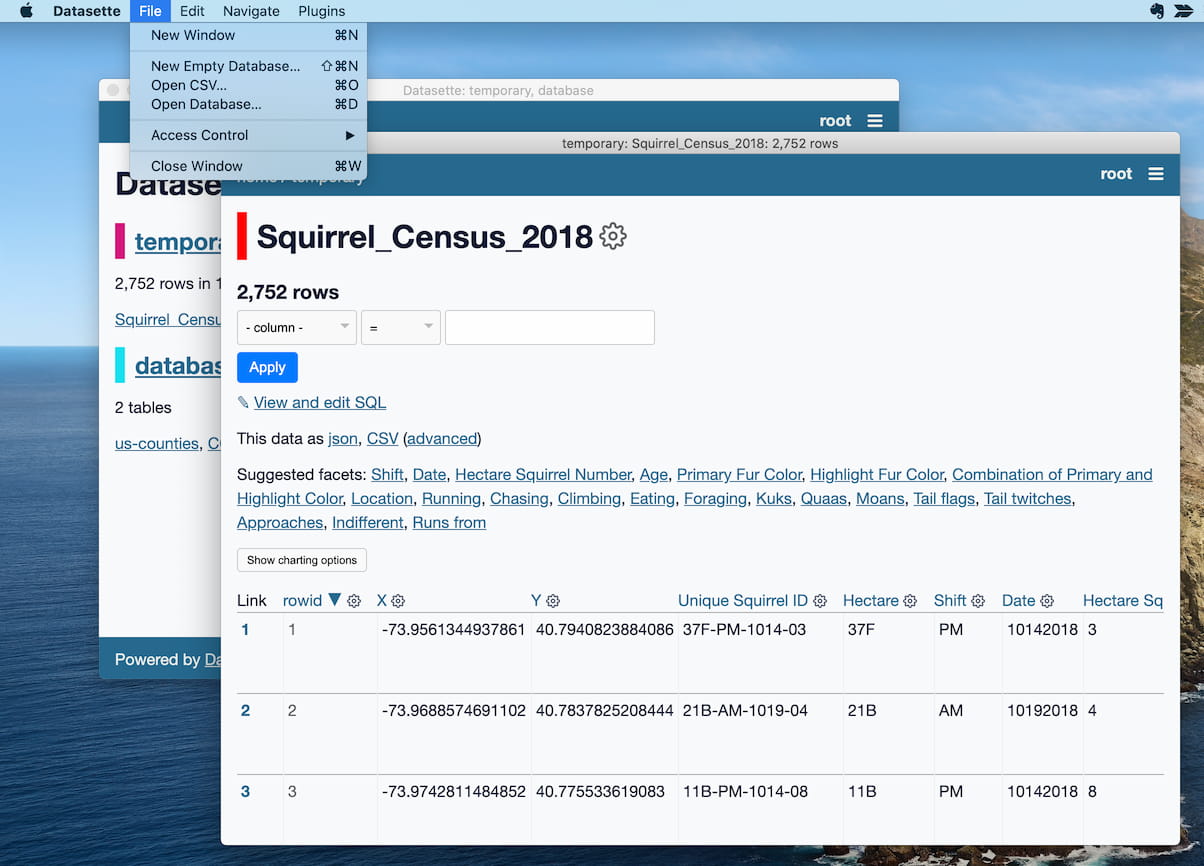 Features include
Open an existing SQLite database file and offer all of Datasette's functionality, including the ability to explore tables and to execute arbitrary SQL queries.
Open a CSV file and offer the Datasette table interface (example here). By default this uses an in-memory database that gets cleared when the app shuts down, or you can...
Import CSV files into tables in on-disk SQLite databases (including creating a new blank database first).
By default the application runs a local web server which only accepts connections from your machine... but you can change that in the File -> Access Control menu to allow connections from anyone on your network. This includes Tailscale networks too, allowing you to run the application on your home computer and then access it securely from other devices such as your mobile phone anywhere in the world.
You can install plugins! This is the most exciting aspect of this initial release: it's already in a state where users can customize it and developers can extend it, either with Datasette's existing plugins (69 and counting) or by writing new ones.